The following are the names (as recorded on the Remembrance Plaques in our Church) of those members of the Ardrossan congregation that lost their lives in the service of our country in both World War 1 and World War 2. By clicking on a name you can find out more about that person.
Note that we do not have details for every one, so if you have information on anyone listed here then please contact the webmaster with details. Also if any errors are noticed then please let the webmaster know so that corrections may be made.
"They shall grow not old, as we that are left grow old:
Age shall not weary them, nor the years condemn.
At the going down of the sun and in the morning
We will remember them."
Fourth stanza of 'For the Fallen' by Laurence Binyon (1869 – 1943)
1914-1918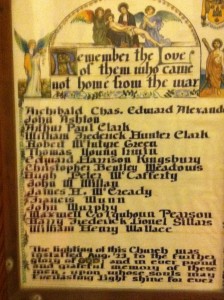 See details of the World War One service men.
Archibald Chas. Edward Alexander
John Ashton
Arthur Paul Clark
William Fredrick Hunter Clark
Robert McIntyre Green
Thomas Young Irwin
Edward Hanison Kingsbury
Christopher Beulley Meadows
Hugh Peter McCafferty
John W Millan
James H McCready
Francis Munn
John Murphy
Maxwell Colquhoun Pearson
Harry Fredrick Lionel Sillars
William Henry Wallace
1939-1945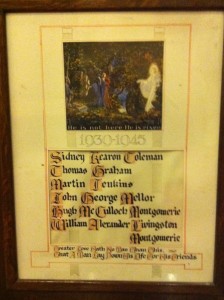 See details of the World War Two service men.
Sidney Kearon Coleman
Thomas Graham
Martin Jenkins
John George Mellor
Hugh McCulloch Montgomerie
William Alexander Livingston Montgomerie

In Flanders Fields
In Flanders fields the poppies blow Between the crosses, row on row,
That mark our place; and in the sky
The larks, still bravely singing, fly
Scarce heard amid the guns below.
We are the Dead. Short days ago
We lived, felt dawn, saw sunset glow,
Loved and were loved, and now we lie
In Flanders fields.
Take up our quarrel with the foe:
To you from failing hands we throw
The torch; be yours to hold it high.
If ye break faith with us who die
We shall not sleep, though poppies grow
In Flanders fields.
Major John McCrae, May 1915